The Berkeley Group, a publicly owned FTSE 100 company, has been delivering exceptional London properties since its inception in 1976. Berkeley Group is one of the UK's leading and most respected property developers, renowned for setting outstanding standards of quality and design and creating thriving communities where people aspire to live.
The Berkeley Group creates exceptional homes and communities across London, Birmingham and the South of England.
Berkeley are holistic placemakers, focussing on large-scale brownfield regeneration projects which are beyond the scope of conventional homebuilders. They stitch these vast and isolated spaces back into the local fabric, bringing them to life with the right mix of homes, amenities, natural landscapes, and open spaces.
Berkeley Groups brands include:
St Edward
St Edward is a joint venture company owned by M&G Investments and Berkeley. It brings together the powerful combination of the two companies' strengths and provides a strong vehicle for delivering fantastic communities where people enjoy a great quality of life.
St George
St George are committed to creating exciting places where people love to live, work, and relax. Where the homes are filled with light, adaptable and finished to our high standards. Where placemaking is carefully planned to incorporate considered public areas that enhance well-being and quality of life for residents, and visitors alike. Where people feel a sense of community and feel at home

St George specialise in high quality mixed-use regeneration projects across the capital. Their portfolio stretches from colourful and vibrant Camden Town to the sophisticated streets of Chelsea, the green boroughs of Wandsworth to the iconic and historic City of London. St George strive to deliver sustainable new developments across some of London's most desirable locations. Our wide mix of locations, whatever your requirements, are available to explore today.
St James
St James was established in 1996, originally as a joint venture with Thames Water. Over the past 20 years, the company has established a reputation as a design-conscious developer regenerating brownfield sites and transforming them into attractive developments whose design not only creates desirable places to live, but also has a positive impact on the environment.
St James' commitment to the quality and design of the buildings is matched by a commitment to making a vital contribution to the landscape, to the communities the company helps create, and to the environment.
St Joseph
St Joseph is Berkeley's newest brand, created to bring their passion for quality, place making and building communities to Birmingham and the West Midlands.
The company plans to build beautiful homes and create communities that work for everyone. These will range from traditional housing to complex mixed use and city centre developments. The name was inspired by the transformational civic improvements delivered by Birmingham's 19th century mayor, Joseph Chamberlain. St Joseph shares his belief that an inspiring public realm is the cornerstone of a happy, thriving community and that their commitment to delivering the best for local people will lie at the heart of everything that they do.
St William
St William will unlock some of the most technically complex regeneration sites at the heart of communities across London and the South of England, creating homes for everyone.

The first place built by St William will be Prince of Wales Drive in southwest London. There will be 955 homes, inspired by the area's unique blend of industrial heritage and green landscape. The design will fuse the elegance of Victorian mansion blocks with the strength of 19th century gasholders which once stood on the site and the serenity of Battersea Park nearby.

Every development created by St William will also have its own poem, including the brand itself. These try to capture the spirit of each place and a landscape-led approach to development. Watch our first short film opposite.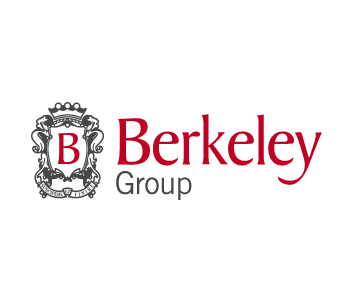 37,800 homes delivered in over 180 communities between 2010 and 2020
98% of their customers recommend Berkeley Group
FTSE 100 Company LSE listed since 1985
10% of all new homes in London were built by Berkely Group Last year